Santa doesn't care about China-U.S. trade war
Santa Claus' warehouse may not be at the North Pole, but in a small city in eastern China's Zhejiang Province, Yiwu.
Twinkling lights, shinny ornaments and Christmas trees, almost 80 percent of the world's Christmas decorations are from this city. Yiwu, famed as the "Capital of Small Commodities," witnessed an increase in Christmas exports despite the China-U.S. trade war.
According to Yiwu customs, from January to October, sales of Christmas-related products reached 1.92 billion yuan (273 million U.S. dollars), up by 23.9 percent compared to last year.
A diversified shopping line
Trump's trade war with China has been going on for 22 months. The U.S. imposed tariffs on daily supplies from China for the first time on September 1. Goods affected range from footwear to dishwashers. Some worried it would bring risks to Yiwu International Trade Market, which is the world's largest wholesale market and where the dollar stores get their goods from.
"It didn't affect us a lot," said Jiang Jiangping, who has been selling Christmas clothes since 2003 in Yiwu International Trade Market. He said his American clients are quite persistent.
"They ordered the same amount as usual."
Jiang told CGTN his customers are from all over the world. In recent years, he has seen a decrease in orders and buyers from Europe, but a rapid increase from Southeast Asia.
"About 30 percent of our products are sold in Southeast Asia," said the vendor. "Our sales to the Phillipines and Thailand are good."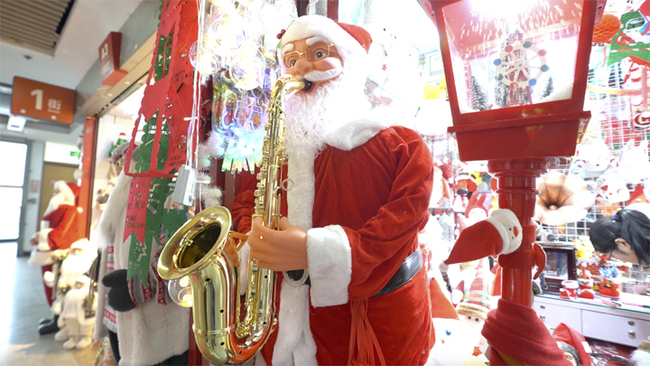 A human sized Santa Claus doll in Yiwu International Trade Market, December 17, 2019. [Photo: CGTN]
Quality and price: Two things buyers always look for
"You can find anything you need, anything you can imagine, more than you can imagine," said Turkish entrepreneur Umut Ankara while walking around in the market.
Ankara opened his own international trade company in Yiwu three years ago. He has seen a small improvement in the quality of products in the market.
"China has become a much more secure country," said the Turkish trader. "The products are more or less the same but the quality is improving a bit."
However, Pakistani buyer KK Khan has observed a big climb in product quality. He said the quality of products is way better than when he first came to Yiwu, which was 1998.
"The products are good, and the price is cheap."
Never compromise on quality of goods
"Low price, big returns" is the motto of Yiwu businesspeople who highly value honesty.
The International Trade Market has 75,000 vendors, and more than 400 of them sell Christmas-related goods. To survive in such a tough competition, integrity is the key.
"We never compromise on our goods," said Jiang. He continued saying if he made the material "a little bit thinner or a little bit lighter," he would make huge profits and people won't even tell any difference, but he never does that.
"It will destroy our own business reputation."
Moreover, Christmas decor vendor Jiang Xiaolan has been innovating her products. She added lights to her Christmas-themed ornaments.
"We didn't have this technology before," she said. "We only had plastic or fiberglass ornaments."
<!-SSE COMMENT_START SSE-> <!-SSE COMMENT_END SSE->