Caixin becomes the first Chinese media outlet to erect paywalls for its products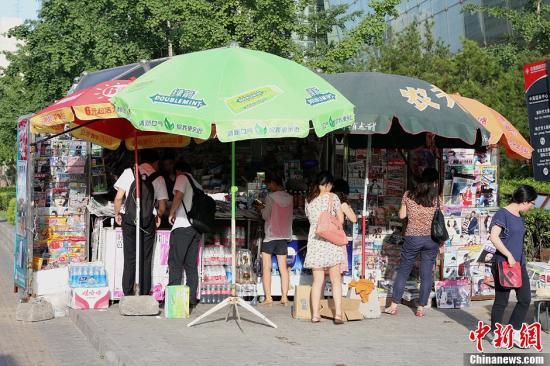 People shop at a newsstand in Beijing. [File photo: Chinanews.com]
In recent years, global media sources have been under great financial pressure with the sharp drop in the revenue from the ads and charging for news products has become a popular solution.
Caixin Media, a major Chinese financial media outlet, has just announced that users have to pay for most of its news products starting from November 6th. It is the first Chinese media group to do so, Beijing Daily reported.
After the transformation, Caixin's major online products, including some of the articles on Caixin.com, will require users to have a paid subscription to read.
A subscription for the online version of Caixin Weekly will initially be offered at a discounted rate of 298 yuan (around 45 USD) per year, three weeks later that price will rise to 498 yuan per year. To read Caixin's other online products, such as Caixin Data+ and Caixin Global, users will have to pay more.
"The payment upgrade is the first commercial transformation since Caixin was founded eight years ago. We aim to focus more precisely on our clients and try to provide them with high-quality news content," said Kang Weiping, vice president of Caixin Media.
However, industry insiders said the move is not without risks despite successful examples of charging modes shown by the New York Times, Wall Street Times and The Times.
A 2016 study by iResearch on China's new media users showed that 33.8 percent of users paid for their new media products in 2015, and 15.6 percent of them said they would pay but had not taken action as yet.
News products that are attractive enough for readers to pay must be highly professional. No similar products can be easily found on the internet, the industry insiders added. As a result, the charging mode may not be a good fit for these integrated media outlets.
<!-SSE COMMENT_START SSE-> <!-SSE COMMENT_END SSE->