Writers call for better understanding at BRICS Literature Forum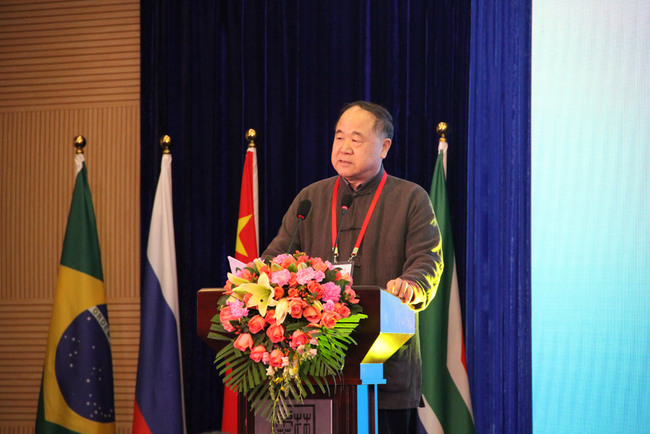 Mo Yan, winner of the 2012 Nobel Prize in Literature, shares his thoughts on literary creations at the 2017 BRICS Literature Forum on December 15, 2017. [Photo: China Plus/Cao Xiaochen]
During the 9th BRICS Summit held in September this year, Chinese President Xi Jinping called for more exchanges among the people of the BRICS countries, namely - Brazil, Russia, India, China and South Africa.

Now a few months later, writers and literary critics from these five member states have gathered in the Chinese city of Zhuhai in Guangdong Province, to work on expanding cultural collaborations.
CRI's Chi Huiguang has more.
"I'm here as a writer, representing South Africa in the BRICS Literature Forum, which is big, quite exciting, and it's an opening."
This is Niq Mhlongo, a Johannesburg-based novelist.
He is among some 30 writers being invited to the 2017 BRICS Literature Forum, a gathering that celebrates the diverse literary expressions from the five countries.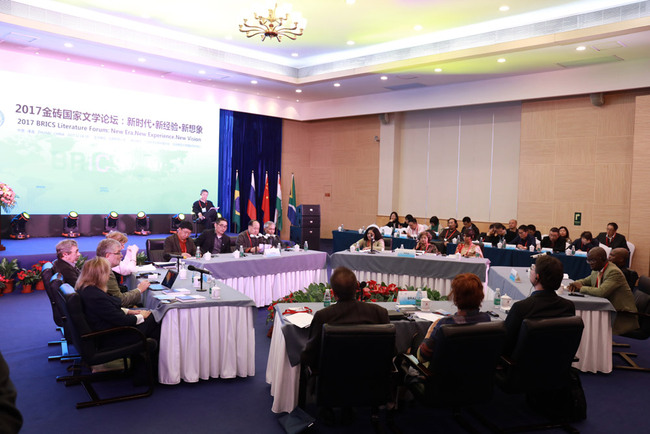 Writers and literary critics from Brazil, Russia, India, China, and South Africa discuss the future facing BRICS literature in the city of Zhuhai of China's Guangdong Province on December 15, 2017. [Photo courtesy of Beijing Normal University]
Zheng Yanxiong, an official from the Guangdong Provincial Publicity Department, explains why literature could call up the spirit of cooperation.
"The collaboration among the BRICS countries should not be confined to the economic domain. It can be expanded to the cultural field. Literature is inspired by social life and social production. Since the BRICS nations are at a similar level of economic development, there are more common interests in terms of literary creation."
Running for three days, the Forum has attracted a star-studded line-up of international literary heavyweights. To name a few, there are Chinese Nobel laureate Mo Yan, Man Booker Prize nominee Su Tong, and celebrated Indian writer Mridula Garg.
From panel discussions to reading events, how to better understand one another has become a main theme of the event.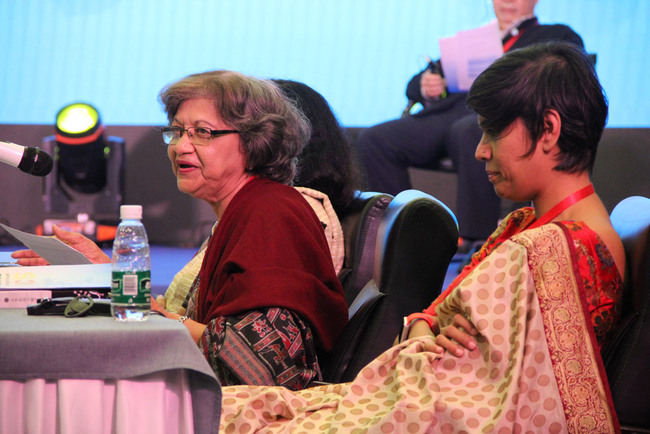 Indian delegates attend the 2017 BRICS Literature Forum on December 15, 2017. [Photo: China Plus/Cao Xiaochen]
Irina Nikolayevna Balmetova is the editor-in-chief of October, a Russian art and literary magazine.
"In recent years, we have worked closely with a Chinese literary magazine, which is also called 'October.' We have assigned topics, such as stories of Beijing or Moscow tales, to authors of each country; and then we have translated those works and published them on each other's journal at the same time. It's a way to tell the wonderful stories of China and Russia."
Indian author Pratishtha Singh says that since BRICS countries are all facing new challenges in the 21st century, inclusion should be the key concern for writers of these five nations.
"The very concept of a 'new era', an era which includes traditions in the contemporary world, according to me, is associated with the concept of inclusion. What I mean by inclusion is that people from different backgrounds, upbringings, and nations need to come together in harmony. In the glorious land of Confucius, a philosopher (whose works) I have read for a really long time and appreciated, with thousands of years of wisdom and knowledge in this land, I feel that great civilizations like the Chinese (one) can show a path of harmonious inclusion to the world. "
Organized by Beijing Normal University, the 2017 BRICS Literature Forum is wrapping up later this Sunday.
For CRI, this is Chi Huiguang.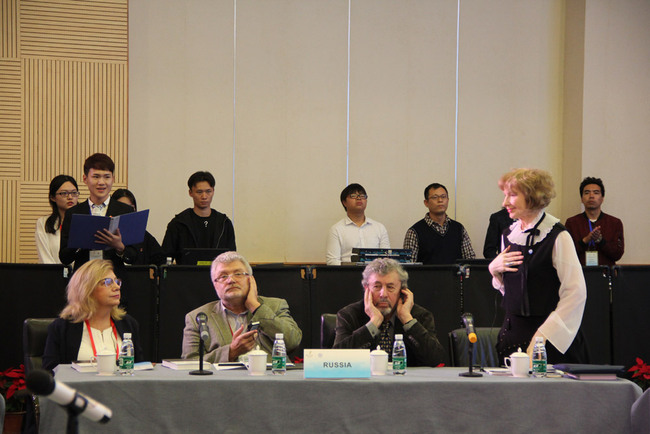 Russian writers introduce themselves at the opening ceremony of the 2017 BRICS Literature Forum on December 15, 2017. [Photo: China Plus/Cao Xiaochen]
<!-SSE COMMENT_START SSE-> <!-SSE COMMENT_END SSE->