Supermarkets trial facial recognition at checkouts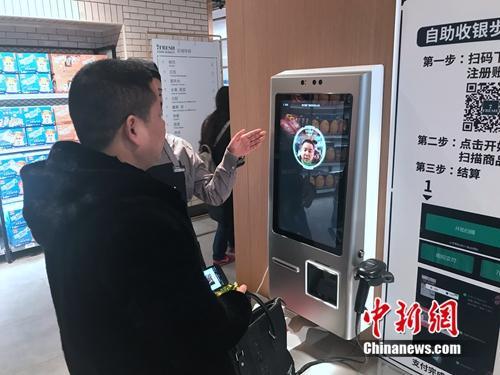 A customer pays with facial recognition kiosk at 7FRESH, a supermarket in Beijing operated by Chinese e-commerce giant JD.com, on January 4, 2018. [Photo: Chinanews.com]
Shoppers at a supermarket in Beijing can now pay for their food using nothing but their face.
7FRESH, a supermarket in Beijing operated by Chinese e-commerce giant JD.com, is testing automated checkouts which use facial recognition.
CRI's Yu Yang has the story.
With no human cashier nearby, customers hold their products up to an automated checkout kiosk
A camera scans their face and matches it to a sales account, while a second one reads the price tag. After entering a mobile phone number to charge the online account, the transaction is finished in seconds.
Automated checkouts using facial recognition is one of a series of innovations JD.com is testing at 7FRESH, an initiative aimed at applying its e-commerce experience to brick-and-mortar Chinese retailing.
JD.com is China's biggest online direct retailer and No. 2 in total sales volume behind Alibaba Group.
JD.com's e-commerce platform is integrated with 7FRESH, which means customers can pay using their online accounts. That requires nothing more than a face the kiosk can recognise and a mobile phone number.
Sun Ji, a 29-year-old accountant, says that other retailers also accept Alipay or WeChat Pay. But he said those can be more complicated because they involve multiple companies.
"Only 7FRESH and JD's facial recognition payment is valid here, so except for those who are using the popular WeChat or Alipay, this might be a problem for those who are not familiar with this system."
Sun Ji also says the face-recognition kiosk is "quite easy to use and more convenient" and he doesn't have to line up.
Technology analyst and entrepreneur Zhuang Shuai says facial recognition is likely to expand into other sectors soon because it is safer than fingerprints, retina scans and passwords.
"We can easily obtain others' fingerprints from where they pressed their fingers, but it's hard to do so with a person's face. To duplicate people's faces is very hard, maybe the hardest in the above three methods. So I think it is expected to be used broadly in this respect."
But he has also cautioned that the hardware and software of the technology is still in the early stages of development and has a long way to go before it became ubiquitous.
"According to my knowledge, in many of the unmanned stores run by e-commerce companies, there is still a probability of 0.5 to 1 percent for the facial recognition system to make a mistake. They could confuse me and other people, such as recognise me as you and vice versa. I have encountered such circumstances."
JD.com announced in January its plans to open 1,000 7FRESH supermarkets across the country in the next three to five years.
With 25 outlets in seven Chinese cities, Alibaba's Hema supermarket, a similar offline fresh food supermarket, announced plans in January to open 30 more stores in Beijing this year.
The Agricultural Bank of China (ABC) has introduced facial recognition technology at its automatic teller machines (ATM). Other banks, such as the China Merchants Bank and the Construction Bank of China, have also introduced similar technology in their ATMS.
<!-SSE COMMENT_START SSE-> <!-SSE COMMENT_END SSE->