Cross-border divorce case heard via WeChat
A judge in Nanjing has ruled in a divorce case after taking evidence via the WeChat social media app, according to Nanjing intermediate People's Court.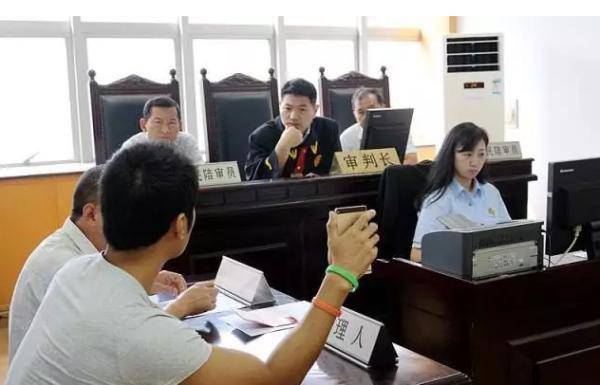 The court of Xuanwu district in Nanjing hears a divorce case by WeChat in September 2017. [Photo: Yangtze Evening News]
The case involved a young Chinese man named Lu, who married a Moroccan woman while she was studying in China. The two planned to run a Chinese Medicine Health Center together in Morocco, but the woman returned home two years ago and severed all contact with Lu who decided to file for divorce.
The court of Xuanwu district in Nanjing registered his case in January last year, and scheduled a hearing date for September 12, 2017 to allow both parties enough time to gather the judicial documents, which might encounter problems due to the international nature of the case.
As of July 2017, officials still hadn't received any judicial documents. If nothing was received by the court date, the trial could not be held as scheduled.
In order to meet the deadline, the judge in the case, Chen Wenjun, decided to hear the case by WeChat.
"The legal relationship between them is simple and the man just wants to dissolve his marriage as soon as possible", Chen said, "Through WeChat, we can ascertain the facts, at a low cost, and the defendant is more likely to attend the trial. It will help reach a verdict".
The woman agreed to take part in the trial through WeChat. Her identity was ascertained by the judge by comparing the woman's marriage license photo with WeChat video. The court took a close-up shot of WeChat's video images and recorded it as an archive to protect the defendant's rights as the woman had failed to appear in court and sign the court record.
After a process taking 20 months, Judge Chen on September 18 made a civil judgment in favor of Lu, approving the divorce.
This is the first time Xuanwu court has used technology to solve the problem of cross-border delivery of the judicial documents. Its success is being seen as serving the needs of the public, and easing the litigation process.
<!-SSE COMMENT_START SSE-> <!-SSE COMMENT_END SSE->