Chinese doctors help Zimbabweans battle cervical cancer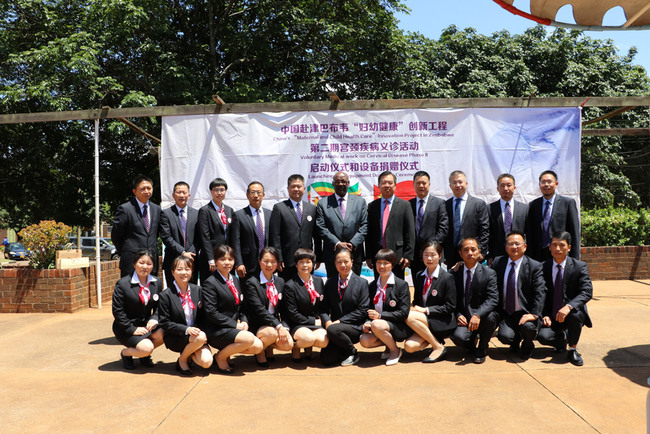 The medical team from Hunan Province poses for a picture together with Chinese ambassador to Zimbabwe Huang Ping, other personnel from the Chinese embassy, and David Parirenyatwa, Minister of Health and Child Care on Monday, January 22, 2018. [Photo: China Plus/Gao Junya]
A group of Chinese doctors is providing voluntary medical services in a local hospital in Zimbabwe, helping to prevent and treat cervical cancer that has been ravaging the South African country for a long time.
Our correspondent Gao Junya brings the details from the country's capital Harare.
The 10-member medical team includes obstetrics and gynecology experts, pathologists and senior midwives from Hunan province.
They are in Harare to carry out a 3-week voluntary medical service, as part of a cooperation program with Harare's Parirenyatwa Group of Hospitals to treat and prevent cervical cancer.
The Chinese medical team has also donated a bunch of medical equipment that is essential to treat the disease.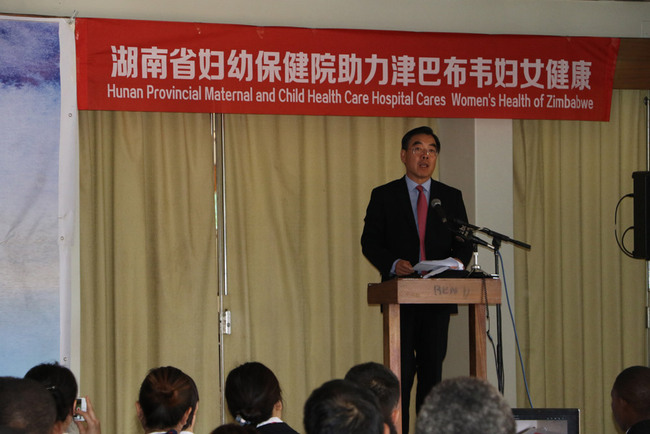 Chinese ambassador to Zimbabwe Huang Ping addresses the Opening of the Early Screening and Treatment Camp on Cervical Cancer in Harare, Zimbabwe on Monday, January 22, 2018. [Photo: China Plus/ Gao Junya]
At a ceremony to kick off the project, Chinese ambassador to Zimbabwe Huang Ping said the program is part of China's larger efforts to help improve health conditions in developing countries:
"The project that we are launching is a follow up of yet another commitment made by Chinese President Xi Jinping to implement the one-hundred projects of maternal and child health in the developing countries and the China-Africa Public Health Cooperation Program announced in the Johannesburg Summit of China-Africa Cooperation Forum."
It's expected that around a thousand patients will be given cervical cancer screening and those diagnosed with the disease will receive operations by the experienced Chinese doctors.
It's being reported that cervical cancer remains one of the most commonly found cancers among Zimbabwean women, accounting for 33 percent of cancer cases in women.
Figures are suggesting over 22-hundred Zimbabwe women are diagnosed with the disease every year and over 14-hundred die from it.
David Parirenyatwa, head of Zimbabwe's Ministry of Health and Child Care, says China's help is quite in time to ensure a healthy Zimbabwe for a long run:
"I would like to commend the gesture made by the People's Republic of China to partner Parirenyatwa Group of Hospitals as part of our national cervical cancer program. We appreciate the equipment that you are donating to the origination, the manpower you have organized for this camp and all other resources you have channeled towards this program."
Besides this voluntary medical team, Hunan Province has been distributing medical teams to Zimbabwe regularly for over 30 years.
140 doctors and experts have offered this assistance over the years to help improve local medical services and save people's lives.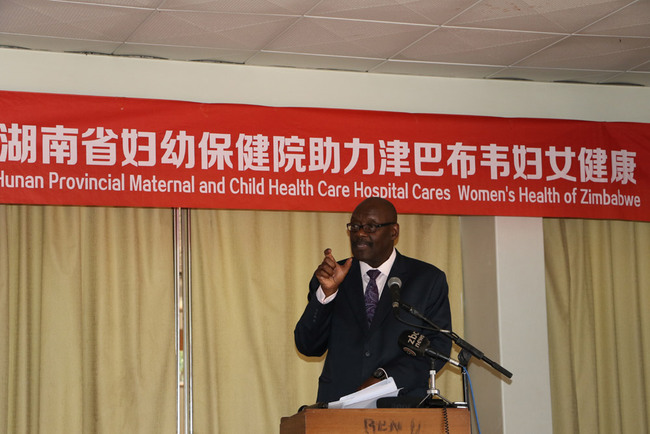 David Parirenyatwa, Minister of Health and Child Care, addresses the Opening of the Early Screening and Treatment Camp on Cervical Cancer in Harare, Zimbabwe on Monday, January 22, 2018. [Photo: China Plus/ Gao Junya]
Parirenyatwa says the contributions of the Chinese medical teams are tremendous:
"The Chinese teams that have come here have been extremely ethical, very professional. They've given us service. They have been with us for many years and we're very proud of that association."
Over the past 20 years, the Chinese government has constructed 2 hospitals for Zimbabwe and has donated medical equipment worth of 14 million yuan.
The Chinese government is also planning to help build two more hospitals in Zimbabwe.
For CRI, I'm Gao Junya reporting from Harare Zimbabwe.
<!-SSE COMMENT_START SSE-> <!-SSE COMMENT_END SSE->