Philippine Airlines to increase flights to China
The Philippine Airlines (PAL) said on Thursday that it is increasing the number of flights between the Philippines and China starting March 25.
PAL said in a statement that on March 25 it will increase its flights between the Philippines and China from the current 99 times weekly to 103 times weekly.
The move is to back the Philippine government's plan to lure more Chinese tourists to the Philippines, said PAL said.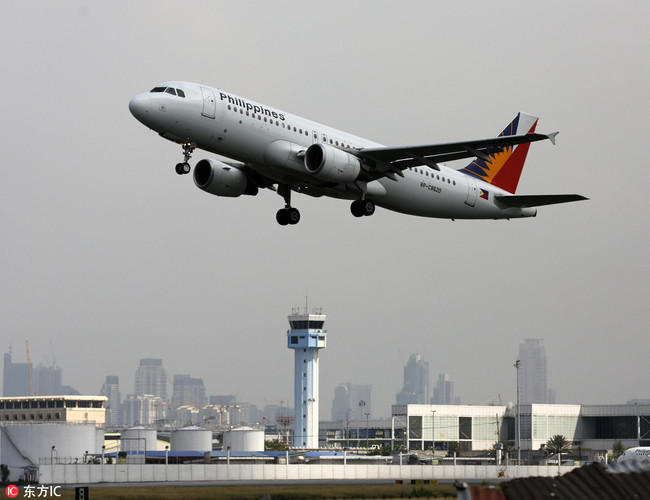 A Philippine Airlines plane [File photo: IC]
"In support of the national campaign targeting 2 million annual Chinese tourist arrivals," flag carrier PAL said it "is ramping up operations to China by increasing flight frequency on existing routes and opening up new destinations in China."
"The spike is due to the shift to daily Manila- Jinjiang and Manila-Guangzhou services from the current five times weekly on each route," the statement said.
Jinjiang is a coastal city in southeastern China while Guangzhou is a large city in southern China.
"These numbers are expected to continue surging in 2018 as PAL further expands flights in the coming months from new Chinese cities: the industrial mega-city of Tianjin in northern China, the commercial trading center of Shenzhen in the Pearl River Delta, and the southern city of Nanning that hosts the annual China-ASEAN Expo," the advisory said.
Tianjin, Shenzhen and Nanning boast a combined population of 33.8 million residents and thus represent rich sources for Philippine tourism, it said.
PAL's 2018 plans include direct air links to Puerto Princesa in Palawan province from both Tianjin and Shenzhen, and to Boracay from both Shenzhen and Nanning, the statement said.
Both Boracay and Palawan are the world-famous island beach resorts in the Philippines.
Philippine Presidential spokesman Harry Roque said on Thursday the Philippine welcomes Chinese tourists and investors in the country.
Last year, he said Chinese tourist arrivals recorded an increase of 43.33 percent, or 968,447 tourists, higher compared to 665,663 Chinese tourist arrivals in 2016.
"For 2018, we expect more Chinese tourists to discover that it is more fun in the Philippines," Roque said.
<!-SSE COMMENT_START SSE-> <!-SSE COMMENT_END SSE->