China's Chang'e-4 rover to land on far side of Moon in 2nd half of 2018
China's latest lunar probe, the Chang'e-4, is expected to land on the far side of the Moon on the second half this year in what is to be the first soft landing on the dark side of the moon in the history of space flight, said Zhao Xiaojin, head of the China Aerospace Science and Technology Corporation.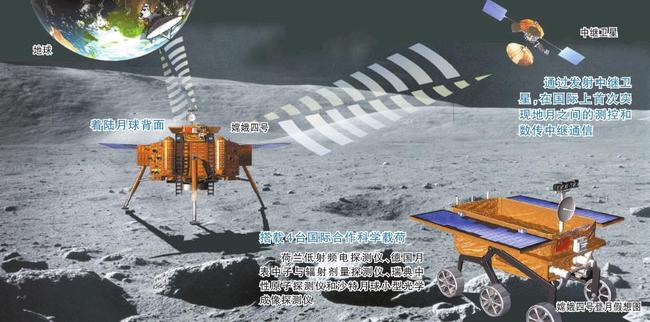 An illustration of Chang'e-4 working on the Moon. [Photo: stdaily.com]
The project is divided into two stages. In the first half of the year, a relay satellite will be sent to the Earth-Moon Lagrange 2 point, which is 450,000 kilometers from the earth. It will transmit data collected by the rover and lander back to earth, explained Zhao Xiaojin on the sidelines of this year's CPPCC sessions.
After the testing of the relay satellite, Chang'e-4 will start its journey in the second half of 2018 and land near Moon's South Pole's Aitken Basin.
Chang'e-4 is a copy of Chang'e-3, but has a different landing method and working conditions. Its predecessor Chang'e-3, China's first lunar lander, has been operating on the moon for over two years.
Meanwhile, Zhao Xiaojin has told the media on the sidelines of the annual session of the Chinese People's Political Consultative Conference that the Chang'e-5 mission is now scheduled for sometime in 2019. That mission will involve a lunar landing and return to earth.
"We hope to start the construction of a lunar base around 2025 and send man onto the Moon around 2030," said Zhao.
<!-SSE COMMENT_START SSE-> <!-SSE COMMENT_END SSE->