Multimedia profiles on tombstones raise questions about privacy
Several cemeteries in Kunming, Yunnan have installed QR codes on tombstones that link to a multimedia profile about the life of the person, reports Yunnan.cn. It also contains the GPS coordinates of the grave so that it can easily be marked on a map.
The new product also allows for virtual 'tomb sweeping'. Every year, people across China mark the passing of Qingming, a traditional festival where family members return to ancestral tombs and graves to clean them and make offerings to the deceased. Fake paper money is often burned on the grave as a gift for relatives in the afterlife. The QR code profile allows mourners to give relatives an environmentally-friendly virtual gift instead.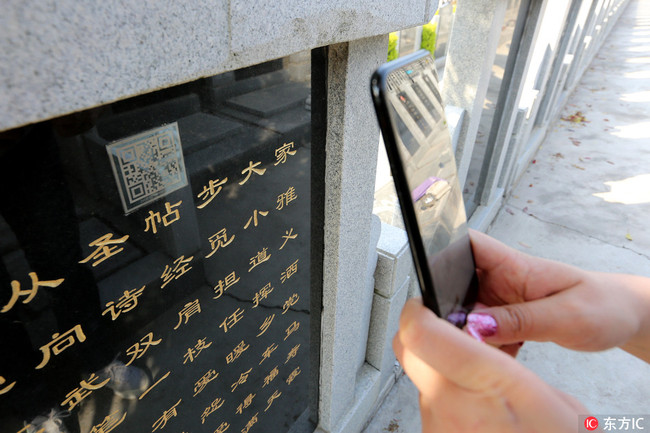 A worshiper scans the QR code on a tombstone to view the profile of the deceased at Guishan Memorial Park in Xiangyang, in central China's Hubei province, on Wednesday, March 28 2017. [File photo: IC]
Some people are in favor of the new product, saying that it helps to preserve the memory of the deceased for posterity. But others have raised concerns about the potential for the personal information of the deceased to be misused. "I don't like it. It is private personal information, after all," said a citizen surnamed Xiong.
A third-party IT company, rather than a cemetery, is usually responsible for the creation and maintenance of the QR codes. This means that the personal data could be at risk if something happens to the company, according to a staff member of Jinfu Memorial Park in Kunming.
"There is educational value in installing a QR code that tells the life story of someone who made a great contribution to society, such as a celebrity or martyr," said a citizen named Zhang, "but it's unnecessary for average people."
QR codes on tombstones have been introduced into cemeteries in several cities in China in recent years. Some companies in the industry are planning to use 3D printing technology to create the codes.
<!-SSE COMMENT_START SSE-> <!-SSE COMMENT_END SSE->