Video sharing app Douyin drives interest in Chongqing landmark
A landmark site in China's mountain city Chongqing saw a tourism boom during the three-day May Day holiday, with interest driven in part by videos of the site going viral on popular video sharing app Douyin.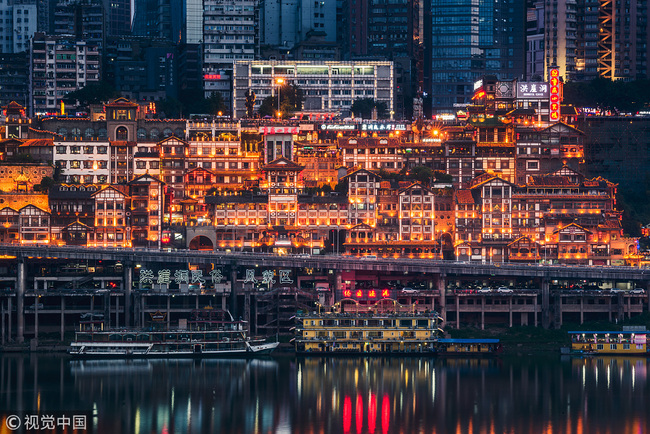 A night view of the Hongya Cave in Chongqing. [File Photo: VCG]
According to local tourism authorities, over 17 million domestic and foreign tourists visited Chongqing during the public holiday that ended on Tuesday. This is a 22 percent increase in the number of visitors compared to last year's May Day holiday. The influx of tourists helped the city bring in more than 1.1 billion yuan in revenue, up 30.5 percent compared with last year.
Hongya Cave is a 2,000 year old complex of large stilt houses built on a steep cliff on the bank of Jialing River in Chongqing.
According to a report by travel review site Mafengwo and weather information provider Moji Weather, Hongya Cave ranked as the holiday's most popular destination second only to the Forbidden City in Beijing.
Official data shows that 142,000 tourists visited the landmark spot over the past three days, more than double the number that visited during the holiday last year.
The recent "Hongya Cave fever" may be partly explained by popularity of videos about the site on Douyin, a popular video sharing app.
"Since late March, Hongya Cave-related videos have been popular on Douyin, which is one of the reasons why the site has become so popular," said Ma Yutao, who is responsible for data analysis at Mafengwo.
Ma regards the "Hongya Cave Tourism Boom" as a typical case of online content driving interest in tourism.
Ma says that "attracting tourists by using high-quality content influences consumption decisions, and will become the main way to promote consumption in the tourism industry."
Zhang Qi, the general manager of the Hongya Cave scenic area, acknowledges the contribution of the Douyin app in promoting the landmark, but says the videos are not the only reason for the interest in the tourist attraction.
Zhang says that the design of the caves is unique in China, and its resemblance to a building in the Japanese animated film "Spirited Away" also raised public awareness of the site.
<!-SSE COMMENT_START SSE-> <!-SSE COMMENT_END SSE->