Should Children's Day also be a day off for parents?
Ahead of Children's Day tomorrow, whether parents should get a day off to accompany their kids on the day has once again become a topic of public discussions, reports Chongqing Morning Post.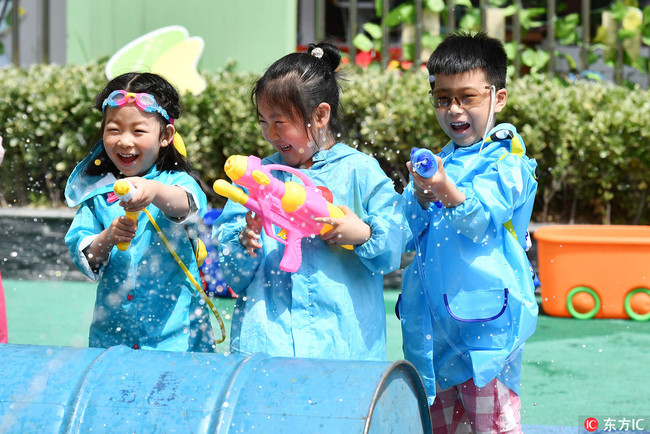 Kindergarten kids play with water pistols during celebrations for the upcoming Children's Day in Huai'an, Jiangsu Province, Wednesday, May 30, 2018. [Photo: VCG]
Some parents are calling for a day off work to celebrate the annual festival with their kids, saying that their companionship is the best gift they can give to their children.
In China, children under 14 years of age are legally entitled to a day off from class on Children's Day, and usually spend the day participating in celebrations at their schools. Whether their parents can join them depends on the leave policies of the parent's employers.
Chongqing Morning Post reported that most government agencies, public institutions, and enterprises do not arrange holidays for their employees on Children's Day, instead offering them gifts and bonus.
According to sociologist Tan Gangqiang, Children's Day is not a recognised holiday for parents, and whether enterprises allow their employees to take the day off is up to them.
<!-SSE COMMENT_START SSE-> <!-SSE COMMENT_END SSE->