Rare animals emerging in NW China amid reforestation
A number of rare species, including golden pheasants, have been spotted in a nature reserve in Yan'an, Shannxi province, reports thepaper.cn.
This follows an earlier discovery of the largest-ever population of the North China Leopard in the Ziwuling Forest Area in Yan'an.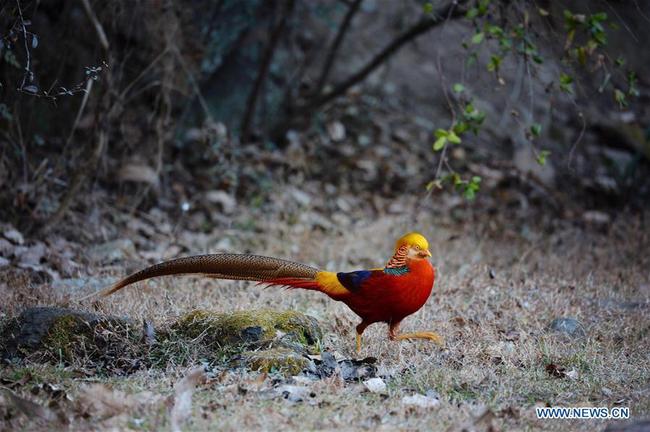 A golden pheasant is seen in a forest near Longting Town, Yangxian County, northwest China's Shaanxi Province, Jan. 19, 2018.[Photo: Xinhua/Liu Xiao]
Researchers are also reporting sightings of other rare animals, including red foxes and roe deer.
Images of the rare animals have been captured by infrared cameras installed by researchers from Beijing Normal University throughout Ziwuling.
"The nature reserve has a large population of wild boars and roe deer, as well as small and medium-sized carnivorous animals such as ocelots and red foxes. If it was not for environmental protection we've undertaken, it's likely none of these animals would have survived," said Feng Limin, associate professor from Beijing Normal University.
Massive reforestation projects have been underway around Yan'an since 1998.
Researchers say they've been able to catalogue 263 different species in Ziwuling so far, including 8 endangered species under first-class national protection.
29 other animals under second-class national protection have also been catalogued around Yan'an, the report added.
<!-SSE COMMENT_START SSE-> <!-SSE COMMENT_END SSE->