Another 261 Chinese tourists trapped in Saipan return to Beijing
A China Eastern Airlines flight safely landed in Beijing at 9:09 p.m. Sunday, bringing back 261 Chinese tourists stranded by Super Typhoon Yutu in Saipan, the company said.
Yutu, one of the strongest super typhoons in history, slammed the islands of Tinian and Saipan Wednesday. The Saipan airport was badly damaged and unable to provide refueling service.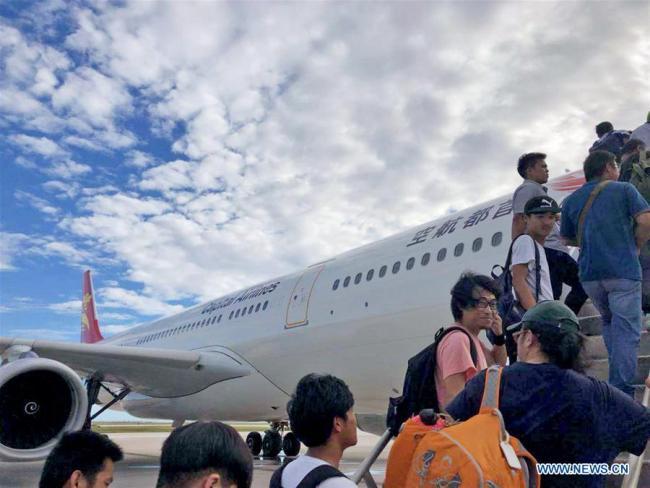 Chinese tourists get on board to fly back home in Saipan, the Commonwealth of the Northern Mariana Islands (CNMI), Oct. 28, 2018. Some 1,500 Chinese tourists trapped in Saipan by Super Typhoon Yutu started to fly back home on Sunday. [Photo: Xinhua]
The China Eastern Airlines flight, carrying returning fuel, drinking water and food, departed Beijing at 6:30 a.m. Beijing Time. It left Saipan in the afternoon with 261 Chinese tourists onboard.
Another flight has been scheduled to take off at 6:30 a.m. Monday to pick up nearly 300 Chinese tourists home, according to the company.
A Sichuan Airlines plane carrying 278 stranded Chinese tourists landed in Shanghai Sunday afternoon.
<!-SSE COMMENT_START SSE-> <!-SSE COMMENT_END SSE->