13 Chinese airlines seek Boeing compensation over 737 Max grounding, losses up to $580 million
Thirteen Chinese airlines are seeking compensation from Boeing over the grounding of its 737 Max jetliners and delays in delivering pre-ordered 737 MAX models.

The Boeing 737 Max planes were grounded around the world in March following two fatal air crashes in Indonesia and Ethiopia.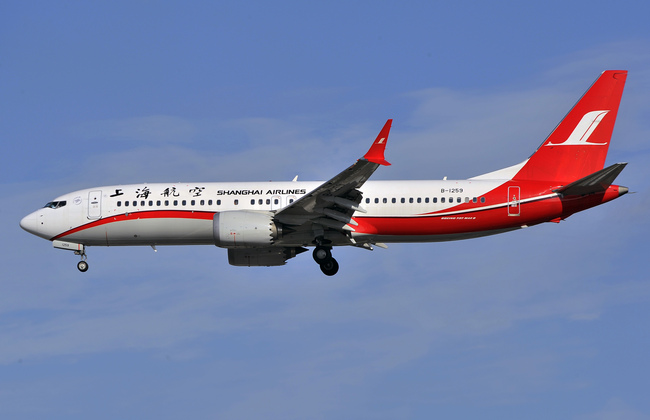 A Boeing 737-8 Max jet of Shanghai Airlines is pictured at the Shanghai Hongqiao International Airport in Shanghai, October 3, 2018. [Photo: IC]
9 Air, a passenger airline company based in Guangzhou of Guangdong Province, was reportedly on Friday to join 12 other Chinese airlines to seek Boeing compensation. Currently all Chinese carriers which operated 737 Max-8 have lodged claims against the U.S. manufacturer.
Meantime, China Air Transport Association (CATA) said on Friday that Chinese airlines could lose 4 billion yuan (580 million U.S. dollars) if the 737 Max suspension lasts through June, and losses will continue to mount if the grounding lasts beyond that. CATA said it will support and help its member airlines to demand compensation from Boeing.
China is the biggest user of Boeing's 737 Max-8 jets – 96 Boeing MAX-8 jets were in service in the country. China was the first country to suspend the commercial operations of all 737 Max-8 jets following the Ethiopian Airlines crash this March, which killed all 157 people on board.
Last October, a 737 MAX-8 crashed in the Indonesian capital Jakarta on a domestic flight, killing all 189 people on board.
<!-SSE COMMENT_START SSE-> <!-SSE COMMENT_END SSE->