China issues orange alert as Typhoon Lekima lands
China's National Meteorological Center issued an orange alert for Typhoon Lekima on Saturday morning, as it landed in east China's Zhejiang Province.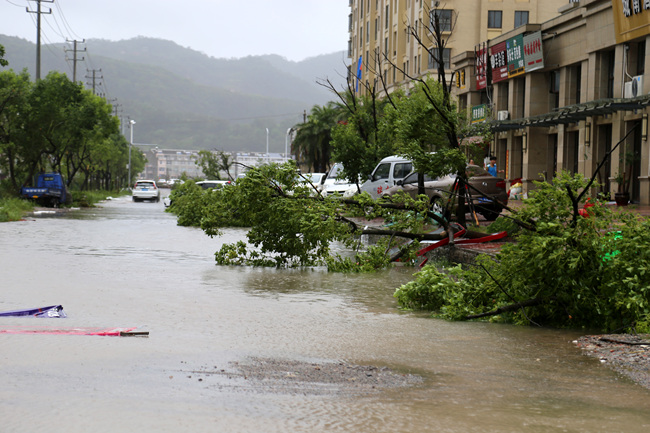 Typhoon Lekima makes landfall in Wenling, Zhejiang province, on Aug. 10, 2019. It brings heavy winds, rain and flooding to most cities in the province. [Photo: IC]
At around 1:45 a.m., the center of Typhoon Lekima, the ninth typhoon of the year, made landfall in the city of Wenling in Zhejiang, with a maximum wind force of 187 km/h.
The super typhoon weakened to a typhoon at 5 a.m. at a maximum wind force of 144 km/h.
The typhoon will move north at a speed of about 15 km/h, with gradually weakening force, the center said, adding that it will sweep through Zhejiang and Jiangsu provinces before making another landfall in the southern coastal areas of the Shandong Peninsula late Sunday.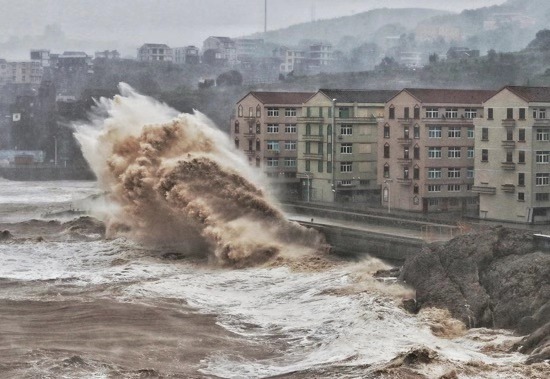 In this photo taken on August 9, 2019, Lekima, the ninth typhoon of the year sends the sea waves up to five-story high in Taizhou, east China's Zhejiang Province. [Photo: VCG]
From Saturday to Sunday, Lekima is expected to bring heavy rain to Shanghai, and provinces of Zhejiang, Jiangsu, Anhui and Shandong.
The center also warned against strong winds in Taiwan, Fujian, Zhejiang, Shanghai and Jiangsu.
The center suggested people in affected areas avoid outdoor activities and local authorities take precautions against possible flash floods, mudslides and landslides caused by the downpours.
China has a four-tier color-coded weather warning system, with red representing the most severe weather, followed by orange, yellow and blue.
<!-SSE COMMENT_START SSE-> <!-SSE COMMENT_END SSE->