Hong Kong protesters seeking to create chaos, says former German official
Dr. Michael Borchmann, a law expert and former government official from Germany, has written that the purpose of the ongoing protests in Hong Kong is to stir up chaos and turmoil in the city, and is not a response the draft extradition bill.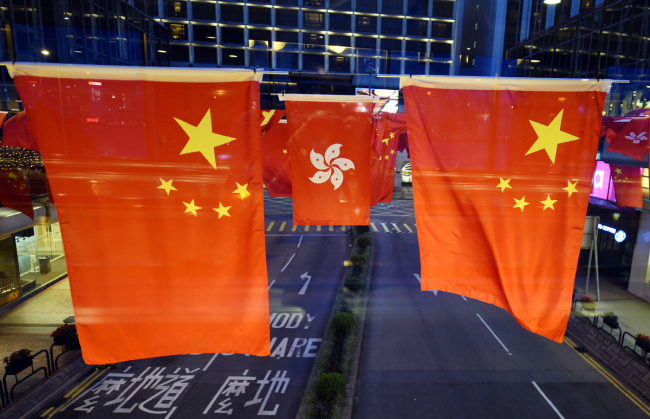 Vehicles drive under flags of China and Hong Kong Special Administrative Region (HKSAR) of the People's Republic of China decorated to mark the 20th anniversary of Hong Kong's return to the motherland in HKSAR on June 25, 2017. [File Photo: IC]
In an article entitled "Don't let Hong Kong fall into chaos", published in the German edition of the European newspaper Nouvelles d'Europe, Borchmann said it is true that freedom of speech and assembly is protected by law in Hong Kong, but this doesn't give people the right to use violence to impose on the freedoms of others.
Borchmann said the characterization of the recent actions of the protesters by some members of the German press as a general strike was incorrect. A strike, he said, means stopping work, but what's going on in Hong Kong now is all about committing acts of violence.
"The 'protesters' block the tracks at railway stations, leading to a disruption in railway and bus services. The roads have been heavily congested and more than 200 flights have been cancelled. Many streets in the city have also been sealed off, and residents who want to lead normal lives like they had before have been forced to get involved in the chaos," said Borchmann.
Borchmann said that it is in the best interests of Hong Kong and China as a whole to put an end to the protests with determined and tough action. He added that criticism of China by some voices in the Western media were irrelevant, as "the moon does not heed the barking of dogs."
<!-SSE COMMENT_START SSE-> <!-SSE COMMENT_END SSE->