African Union and China deny hacking report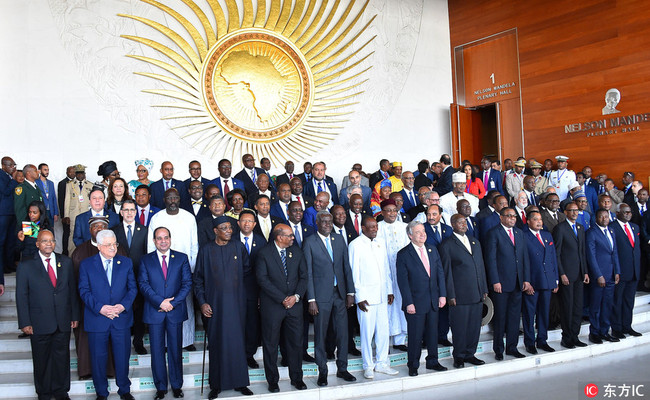 Heads of state pose for a group photograph during the opening ceremony of the African Union summit in Addis Ababa, Ethiopia, January 28, 2018. [Photo: IC]
China and the African Union have dismissed a report in French newspaper Le Monde that alleged China was spying on the AU headquarters.
CRI's Yu Yang has the story.
The French newspaper Le Monde said China had bugged the building it had built and gifted to the AU in 2012 and had been downloading data from servers in the building.
Former Deputy Chairperson of the African Union Commission Erastus Mwencha has denounced the report, saying the report is untrue for various reasons.
Chinese ambassador to Ethiopia Tan Jian says the timing of the article was suspicious.
"China and African countries are happy with their relationship but some people are not happy. Some people are not used to it. So they want to create some problems. As I said, the timing of the article was very interesting. It was published just one day before the summit. So I think that the story was intended for the African countries here and to attract the attention but I think they would not succeed."
African leaders, including Ethiopian Prime Minister Hailemariam Desalegn have also dismissed the French media report.
"There is nothing to be spied because China-Africa relationship is very strong and it is strategic, it is comprehensive, so there is nothing to spy and I don't believe that."
Kuang Weilin, head of the Chinese Mission to the African Union, calls the report sensational and preposterous.
"The tide of the times of a closer corporation between China and the African Union cannot be stopped and will not be stopped by this single sensational story by someone, by one newspaper. Things will move on and I am very confident that our relationship with the African Union will only be further enhanced."
According to Kuang, the AU headquarters is an important project donated by China to support the pan-African bloc.
<!-SSE COMMENT_START SSE-> <!-SSE COMMENT_END SSE->