Venezuela to close embassy, consulates in U.S.
Venezuelan President Nicolas Maduro said on Thursday he will close the country's embassy and consulates in the United States, a day after severing "diplomatic and political" ties with Washington.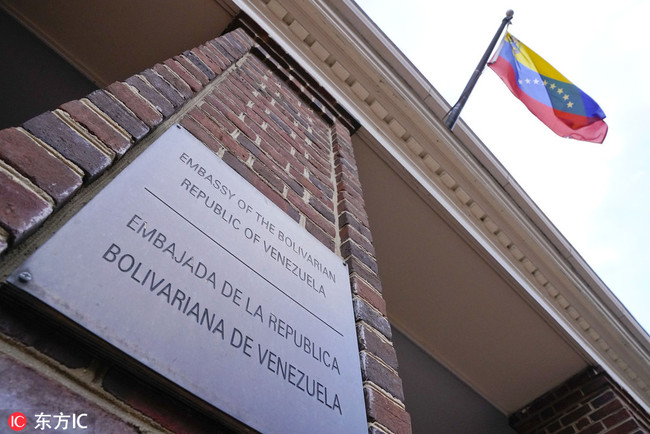 Venezuela's Embassy in Washington, Thursday, January 24, 2019 [Photo: IC]
Venezuela's diplomatic personnel will return as soon as Saturday, he said.
"They will land on Saturday. We are going to give them a welcome ceremony," said Maduro.
The president cut off relations with the United States following U.S. President Donald Trump's official recognition of opposition leader Juan Guaido as interim president.
Meanwhile, the U.S. State Department ordered some U.S. government employees to leave Venezuela, according to the website of the U.S. Embassy in Venezuela.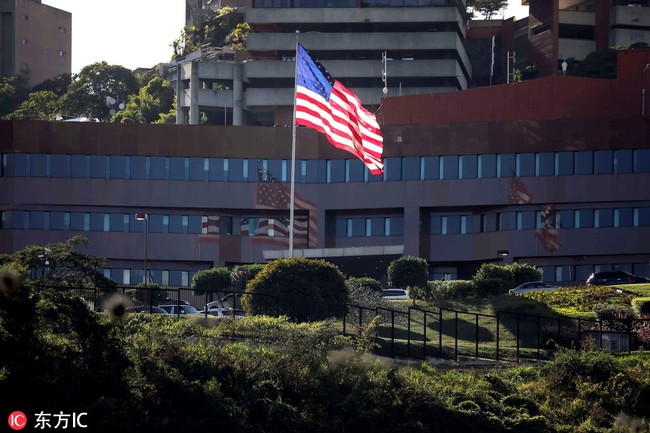 A view of the US Embassy in Caracas, Venezuela, on January 24 2019 [Photo: EPA via IC/Miguel Gutierrez]
"The State Department ordered non-emergency U.S. government employees to depart Venezuela. The U.S. government has limited ability to provide emergency services to U.S. citizens in Venezuela," the U.S. Embassy in Venezuela said in a security alert.
"We'll make the right decision about our team and how many and for how long they can stay," Secretary of State Mike Pompeo said in an interview earlier on Thursday.
The move came one day after Pompeo's Wednesday statement that U.S. diplomatic presence in Venezuela would continue.
Washington would conduct diplomatic relations through the government of "interim president," Pompeo said in the statement.
Also on Thursday, Venezuela's Supreme Court of Justice (TSJ) ratified Maduro's legitimate right to govern.
TSJ President Maikel Moreno rejected any move "to usurp a popularly elected post," after Guaido declared himself interim president during an anti-government rally on Wednesday.
"We make our recognition of the legitimate, constituted authority of Nicolas Maduro as constitutional president of Venezuela absolutely clear," said Moreno.
"We disavow any unconstitutional attempt to usurp" the presidency, said Moreno.
The judicial branch joined the armed forces in expressing their support for the elected government, after Defense Minister Vladimir Padrino Lopez said the military remained loyal to Maduro.
The opposition's move aims "to ridicule the democratic will of the Venezuelan people" and "break with the constitutional order duly established in the country," Moreno said.
He also warned against any attempt to overthrow the government "with the consent of foreign governments."
Maduro has described Washington's position as "childish."
He welcomed international initiatives to broker talks between his government and the right-wing opposition to overcome the country's political crisis.
Maduro thanked countries that backed his democratically-elected government by refusing to recognize Guaido, and hailed an initiative put forward by Mexico and Uruguay to promote a negotiated solution to the political crisis.
"To the government of Mexico and Uruguay I publicly say: I agree with a diplomatic initiative for national dialogue in Venezuela," said Maduro.
<!-SSE COMMENT_START SSE-> <!-SSE COMMENT_END SSE->