Israel's first moon lander set to lift off from Kennedy Space Center
Israel's first spacecraft was set to be launched from the Kennedy Space Center in the United States later on Thursday, Israeli officials said.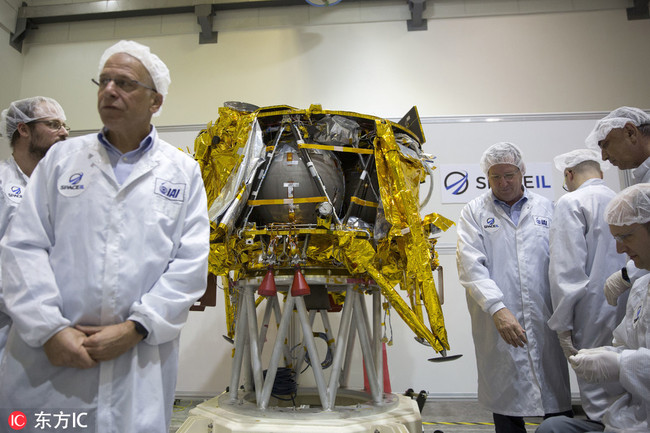 In this Monday, Dec. 17, 2018 file ., technicians stand next to the SpaceIL lunar module, an unmanned spacecraft, on display in a special clean room during a press tour of their facility near Tel Aviv, Israel. SpaceIL and the state-owned Israel Aerospace Industries plan to launch the lunar lander on a SpaceX Falcon rocket Thursday night, Feb. 21, 2019, from Cape Canaveral, Fla. [File Photo: IC]
If succeeded, Beresheet, or Genesis in Hebrew, would be the first privately-funded spacecraft to land on the moon.
The 585-kg and 1.5-meter-high spacecraft is designed to land on the moon and eject a robotic vehicle that will tour its surface.
According to a statement by Israel's Science and Technology Ministry, Beresheet is scheduled to take off on a SpaceX Falcon 9 rocket at 8:45 p.m. local time (0145 GMT Friday).
Its journey to the moon will take a few weeks, with landing expected on April 11, the statement said.
Together with scientists at Israel's Weizmann Institute of Science and an international team of experts, Beresheet is due to carry out scientific experiments on the lunar surface, including measuring and mapping the moon's magnetic field, the ministry said.
It was built by SpaceIL, an Israeli non-profit space venture, and state-owned defense contractor Israel Aerospace Industries (IAI) with a budget of 100 million U.S. dollars raised mostly by SpaceIL.
SpaceIL Chairman Morris Kahn, a South African-born Israeli billionaire entrepreneur, told reporters on Monday that he hopes Beresheet will herald the beginning of a new area for Israel in space.
"We show our initiative, and we've developed technology, which I think is going to be important. I think we got to take Israel into space," he said.
Meanwhile, Israel's Science and Technology Minister Ofir Akunis said the launch will mark "national and historic events in the history of the state. The event is one of the greatest prides for the country and a national event in every respect."
"The fact that Israel will be the fourth country in the world, alongside the United States, Russia and China, to land a spacecraft on the moon is cogent proof that we are an international science and technology power," he noted.
<!-SSE COMMENT_START SSE-> <!-SSE COMMENT_END SSE->