China cleansing corruption at all levels
By Yasir Habib Khan
Realizing the intensity needed to create a system to root-out corruption is one of the key steps toward sustainable progress. China knows this very well. It's clear that its robust development growth and economic ascendency may take a beating if the menace of corruption is not stamped out with an iron hand. With this in mind, the current anti-graft drive is not avoiding any level of government.

Five years on, thousands of so-called "tigers," the upper echelons of government, and low-level "flies," have been rounded up for their involvement in misappropriation, kickbacks and abuse of power. It's sent out an alarm bell to everyone in the Chinese government: "Shape up or ship out."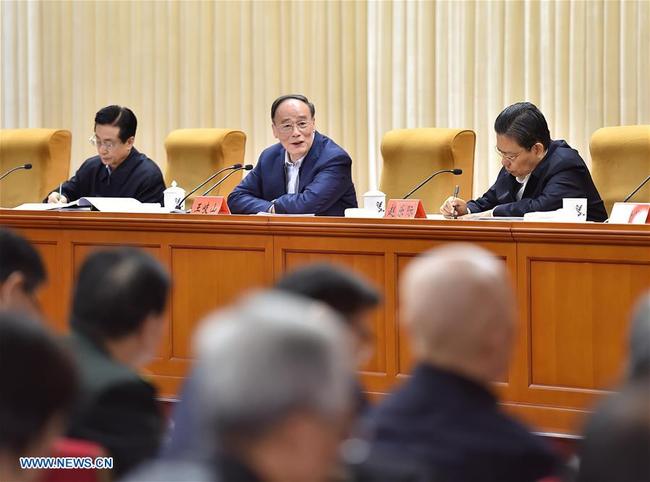 Wang Qishan (C), a member of the Standing Committee of the Political Bureau of the Communist Party of China (CPC) Central Committee and secretary of the CPC Central Commission for Discipline Inspection, attends a meeting on anti-graft inspection in Beijing, capital of China, Feb. 23, 2016.[Photo: Xinhua]
The anti-corruption campaign has brought-to-book around 415,000 members of the Communist Party of China for various wrong-doings the past 5-years. The People's Liberation Army is no exception to the corruption-busting system. China stands alone when it comes to ferretting out corruption within the ranks of its military. Nearly 101 generals, including two senior military officials, Guo Boxiong and Xu Caihou, both vice-chairs of the all-powerful Central Military Commission, have been arrested in a crackdown on corruption.
Even critics are paying tribute to China for purging society from the curse of corruption. Transparency International, in its 2016' Corruption Perception Index, revealed that China's ranking continues to improve, moving up by four places from last year's rank of 83 to 79 this year.
Reports are suggesting China's anti-corruption efforts have been coming to fruition. The government has put a series of new sentencing guidelines into place for official and commercial bribery. The Ninth Amendment to the PRC Criminal Law outlines new rules on whistle-blowing, as well as proposed amendments to the Anti-Unfair Competition Law, a new blacklist system by the State Administration for Industry and Commerce and new donation rules for the healthcare sector.
The anti-graft spirit took its roots in the 18th Party congress in 2012 when Xi Jinping assumed the role as General Secretary of the Communist Party of China. Since taking over, Xi Jinping has been doing his utmost to eliminate corruption within the Party ranks.
To enforce anti-corruption drive in the party, four former senior officials have been formally expelled from the Party. The ousted leaders, Wang Min (former Party chief of Liaoning province), Lyu Xiwen (former deputy Party chief of Beijing), and military officials Fan Changmi and Niu Zhizhong, are just four examples of those who have fallen from grace. Others who have been caught in the corruption crackdown include Zhou Yongkang, the only former member of China's all-powerful Politburo Standing Committee to be convicted of corruption; Ling Jihua, a senior Party member, as well as Guo Boxiong and Xu Caihou, both former generals and vice chairs of the Central Military Commission.
Behind the success is the Party's anti-graft watchdog, the Central Commission for Discipline Inspection (CCDI). Over the past five years, its massive crackdown on unscrupulous elements has left no stone unturned, from the local level to the highest reaches of government. This has boosted the morale of the Chinese people, who are showing more faith on government than ever before.
"The CCDI has performed well, and is taking big steps to improve its image and that of the party as a whole," said Zhuang Deshui, deputy director of Peking University's Clean Government Centre. "The public have been pivoting on CCDI, because it is more obvious and transparent than before," said Zhuang.
Tony Kwok, an international anti-corruption consultant, has praised Beijing's plan to establish a super agency to fight the scourge of corruption.
"An independent anti-corruption agency – a national supervisory commission answerable to the NPC, with its head appointed by the NPC, will be a great success," he said.
"The new commission will bring under one roof the various anti-corruption units in the prosecutorial and government departments, such as the Ministry of Supervision and the National Bureau of Corruption Prevention. The agency will work with the party watchdog, and will have the power to investigate all public officials, including party members, civil servants, judges and prosecutors, and state-owned organizations."
Revamping the anti-corruption landscape on has also helped China to improve its image on the international level. China has extradited 2,442 criminals from over 70 countries or regions, recovering illicit money worth 8.54 billion yuan ($1.24 billion) from 2014 to 2016, according to the latest data of the Communist Party of China Central Commission for Discipline Inspection (CCDI).
The China-US Joint Liaison Group is a prime example of the new international collaboration to fight corruption. China now has 79 criminal judicial assistance treaties with nearly 60 countries, and has inked extradition treaties with 46 countries.
<!-SSE COMMENT_START SSE-> <!-SSE COMMENT_END SSE->