China and Africa: an all-weather friendship based on equality
By He Wenping
Note: The following is an edited translation of a commentary from the Chinese-language "Commentaries on International Affairs."
China and Africa share long lasting bonds of all-weather friendship. This is evident in the visit by China's President Xi Jinping to the continent, as he travels through Senegal, Rwanda, South Africa, and Mauritius on his fourth visit to Africa in five years. Several African leaders have paid visits to China, including the presidents of Cameroon, Namibia, and Zimbabwe who came to China in March. And since 1990, at the beginning of each year, the first trip overseas by China's foreign minister has been to Africa. This nearly three-decade old diplomatic tradition reflects the bond between China and Africa.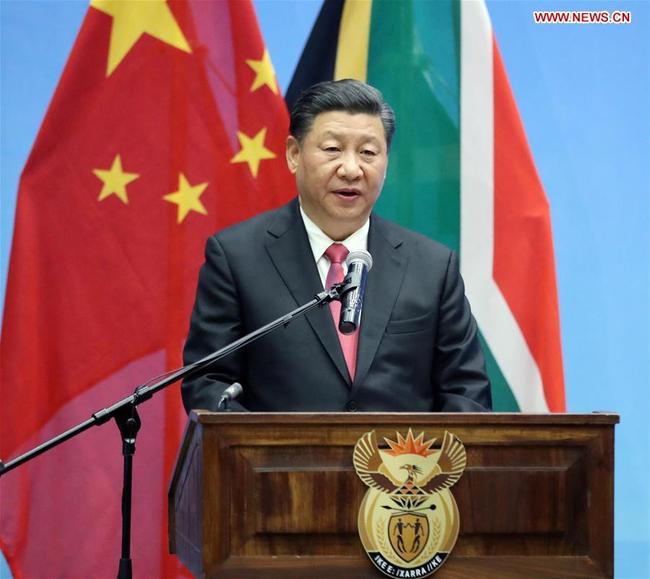 Chinese President Xi Jinping addresses the opening ceremony of the South Africa-China Scientists High Level Dialogue in Pretoria, South Africa, July 24, 2018.[Photo: Xinhua/Liu Weibing]
At the core of the China-Africa friendship is the principle of equality and development that is to each other's mutual benefit. This friendship can be traced back to each other's anti-imperialist and anti-colonial struggles for national liberation and independence. This foundation is reflected in the strong support shown by African countries for China's position during recent disputes over the South China Sea and the "One China" principle. And China is pushing for the development of Africa at the G20 and elsewhere on the international stage.
This year is an important one for China's diplomacy in Africa. China will work with the leaders of more than 50 African countries to lay out a blueprint for the role that China's Belt and Road Initiative can play in Africa's development, culminating in the Forum on China-Africa Cooperation Summit in Beijing in September. The summit will be a new chapter in China-Africa friendship.
The China-Africa Cooperation Summit is a triennial ministerial meeting held in rotation between China and Africa. It reflects the spirit of equality in the China-Africa relationship – there are no strings attached to the development assistance that China extends to Africa. China is opening its market to African commodities. And it is helping African countries to build transport infrastructure and industrial parks, and increase their levels of industrialization.
The outstanding performance of the China-Africa friendship comes from sticking together through thick and thin. The Chinese people will not forget that when earthquakes hit Wenchuan and Yushu in May 2008 and April 2010, even some of Africa's relatively underdeveloped partners made donations to China. For example, Equatorial Guinea donated 1 million euros, despite being a small country with a population of only 1 million.
Likewise, when African countries are hit by a famine or an epidemic, China is always there to offer them support in their time of need. For example, in the summer of 2011, when Somalia and other countries in the Horn of Africa suffered a severe drought, China provided them with emergency food aid and financial assistance worth 443.2 million yuan. In March 2014, when the Ebola outbreak hit West African countries including Guinea, Liberia, and Sierra Leone, China provided assistance and funds totaling 750 million yuan. At the peak of the epidemic, there were as many as 700 Chinese experts and medical staff working in the affected areas.
The Belt and Road Initiative will be a new chapter in the history of China-Africa cooperation and development. In light of the current international situation, and the growing focus by some countries on their national interests and trade protectionism, the friendship between China and Africa is precious and must be cherished.
(Special commentator: He Wenping, a researcher with the Institute of West Asian and African Studies, Chinese Academy of Social Sciences)
<!-SSE COMMENT_START SSE-> <!-SSE COMMENT_END SSE->