Washington's neo-Cold War can end badly
Vice President of the United States Mike Pence delivered a provocative speech at the Hudson Institute on Thursday. There wasn't anything particularly new in Pence's remarks. Everything had been articulated before in diverse arenas by many different actors.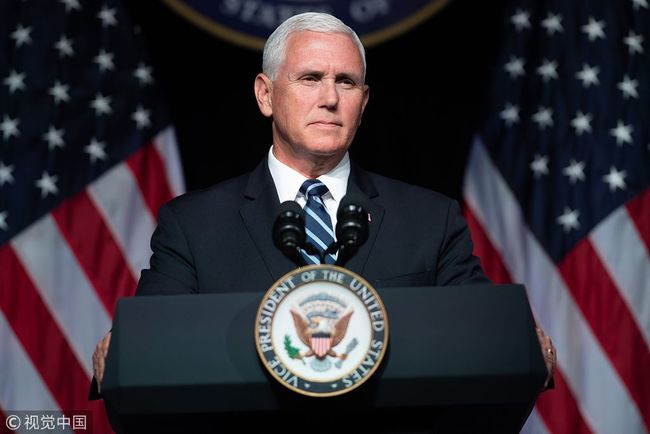 US Vice President Mike Pence [File photo: VCG/Saul Loeb]
What is different, however, is that there is a new aggressive game plan in which, for the first time, these strands have been woven together at the White House level in a synergistic attack, where one plus one equals much more than two.
Suddenly the administration has gone into overdrive. Whereas before they were like an inefficient flashlight, generating more heat than light, making arguments, demands and whining about perceived-Chinese injustices, now they have focused their energy like a LASER.
While some of this represents tossing red bait to Trump's red base in red states, it's clear that after the midterm Congressional elections, the attacks will continue and intensify.
In fact, it was first revealed in the news website Axios on September 23. As an unnamed White House source quoted there said: "We're not just going to let Russia be the bogeyman. It's Russia and China."
Just as some have speculated that the world is on track to have two separate parallel internet models, even more, recent voices are insisting that Trump's twitter tantrums for fair trade are a ruse. The real goal is a delinking of the world's two largest economies so that the US is less reliant on China. And there are mirror indications that similar thoughts are being floated in China as well.
President Xi Jinping has made two important speeches about how China is too reliant on foreign, read the "US," technology and has to go to warp speed to create critical infrastructure elements that are home-grown to eliminate reliance on third parties.
Pence's speech contained a few legitimate truths. However, it was mostly a hodgepodge of many untruths wrapped in a blanket of patriotism, nationalism and religion.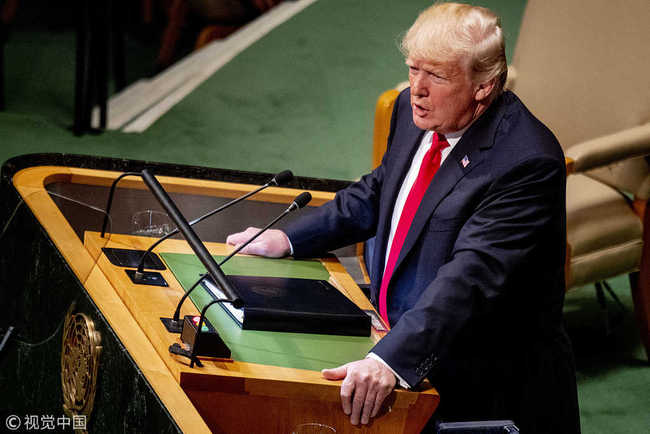 U.S. President Donald Trump addresses the United Nations General Assembly on September 25, 2018 in New York City, NY, USA. [File photo: ABACAPRESS.COM/Robin Utrecht]
Take the issue of so-called Chinese interference in upcoming US elections, raised by Trump at the United Nations last week without a shred of evidence. Pence brought it up by parroting the President's still unsubstantiated charges. The lack of evidence repeated twice does not make a bald assertion true.
It's clear that the White House crew is attempting to tie this to Russian election meddling in 2016, which the US intelligence community unanimously acknowledges occurred, perhaps with connivance by Trump and/or his team, and which many experts feel tilted the vote to Trump. Maybe guilt by association is the best the White House can do in the absence of evidence?
Trump's Secretary of Homeland Security Kirstjen Nielsen debunked these lies on Tuesday, saying that "we currently have no indication that a foreign adversary intends to disrupt our election infrastructure. We know that they [the Chinese] have the capability and we know they have the will. So we're constantly on alert to watch. But what we see with China right now are the influence campaigns, the more traditional, longstanding, holistic influence campaigns."
Closer to home, Pence also took issue with "the Chinese Communist Party… spending billions of US dollars on propaganda outlets in the United States and, frankly, around the world." He specifically cited China Radio International broadcasting "Beijing-friendly programs on over 30 US outlets, many in major American cities."
"Beijing-friendly" is that a crime? Is he talking about the same CRI, where I appeared most recently last Saturday, talking about such subversive topics as school bullying, effeminate sissies in China, and the no-zero grade policy? Gimme a break.
And what about the US-funded Voice of America, Radio Free Asia and the like. Pence conveniently forgot about them because they are all legitimate tools used by governments who can afford them to win hearts and minds.
Putting together recent events culminating in Pence's aggressive attack on China at the Hudson Institute means that a cold wind is now blowing from Washington all the way to Beijing in a new Cold War precipitated by Trump, Pence, Navarro and their trigger-happy neo-Cold warrior colleagues. Let's hope, and as Pence would say, pray, that this manufactured crisis doesn't end badly, very badly.
Editor's Note: Harvey Dzodin, senior research fellow of the Center for China and Globalization, a former legal adviser in Carter administration. The article reflects the authors' opinion and not necessarily the views of China Plus.
<!-SSE COMMENT_START SSE-> <!-SSE COMMENT_END SSE->