China's Transsion shows us how to do business in Africa
By Ding Heng
"A tree blossoms inside a courtyard, but it perfumes the outside" is a fitting Chinese proverb to describe Transsion. Many people in China had never heard of the Shenzhen-based mobile phone maker until last month when it filed for an IPO in Shanghai. Almost none of the handsets it makes under the brands Tecno, Infinix, and Itel are sold in China. In Africa, however, the company is the king of mobile phones. According to the technology research group IDC, Transsion claimed nearly half of Africa's mobile phone market last year. Nokia, the second-largest vendor, had a share of less than 10 percent. On the smartphone front, Transsion overtook Samsung in Africa for the first time in 2017, when it won 28 percent of the market. It advanced further last year, grabbing a 34 percent share against Samsung's 22 percent. A report by Facebook and KPMG last year names Transsion as one of the top 50 Chinese global brands.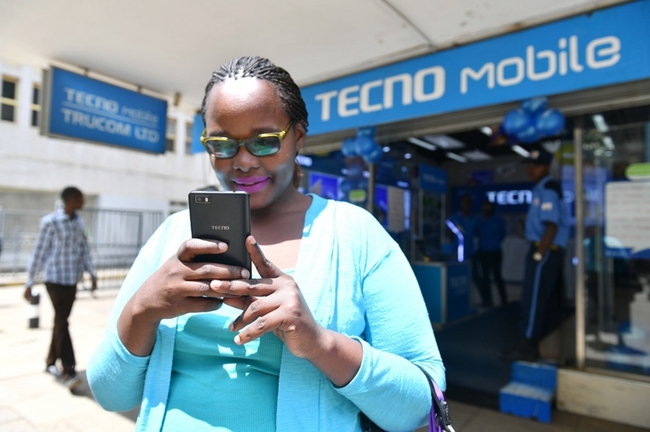 A woman uses her Tecno smartphone outside a Tecno retail store in Kenya's Nairobi, May 9, 2017. Tecno is one of the three major phone brands of Transsion. [Photo: Xinhua]
By the time Transsion was founded in 2006, competition was fierce in China's mobile phone market. Nokia, Motorola, Samsung, and Sony Ericsson were the most popular brands at the time, and there were already many homegrown brands as well. Transsion's founder, who is said to have travelled to more than 90 countries before building his own business, decided to focus on the less competitive overseas emerging markets. The company initially sold phones in South Asia before entirely shifting to Africa in 2008. For most of the decade that followed, it rarely sold handsets outside Africa. But a lack of rivalry was not the main reason for its success on the continent. Rather, it was its ability to win the hearts of local customers.
Due to technical problems, telecom operators in Africa provide patchy services. Some offer cheap data but expensive calls, while others provide cheap calls but expensive data. And calls between different operators are usually costly. As a result, many African people use more than one SIM card. In Nigeria for example, two-thirds of mobile phone users were using multi-SIM phones in 2014. Transsion released its first dual-SIM phone in Africa in 2007, a time when no other vendor was catering to this need in Africa. Some of the company's phones could even accommodate up to four SIM cards. By comparison, Samsung didn't release its first dual-SIM phone until 2009, and Nokia didn't follow suit until the launch of the Nokia C2-00 in 2011.
According to the World Bank, only 43 percent of the people in sub-Saharan Africa have reliable access to electricity and in 16 African countries, over three-quarters of households are without electricity. Niger, for instance, suffers 1,400 hours of power outages each year – equivalent to more than 58 days. To help African users cope with the unreliable electricity supply, Transsion has dedicated much of its research and development to prolonging the battery life of its phones. Some of its feature phones last more than 20 days on a single charge. And Transsion is in a leading position when it comes to smartphone battery life: the Infinix Note 4 Pro it released in 2017 has a battery capacity of 4,500 mAh. By comparison, most Android phones have a capacity between 3,000 mAh and 4,000 mAh, and most iPhones have less than 3,000 mAH. Among the mainstream brands, Xiaomi's Mi MIX probably comes closest with its 4,400 mAh battery. But the 6.4-inch screen on the Mi MIX is also much larger than 5.7 inches on the Infinix Note 4 Pro.
Most smartphones incorporate facial recognition technology into their cameras. But this feature usually doesn't work well when it comes to people with dark skin, as it usually produces murky, distorted images of dark faces. Transsion seems to be the only vendor that has sought to solve this problem. It used more than 10,000 photos from African customers to develop a special algorithm that enables its phones to capture 30 percent more light on dark faces. This is why the company was confident to hail its Camon CX as a "selfie smartphone for Africa" when the phone was launched in 2017.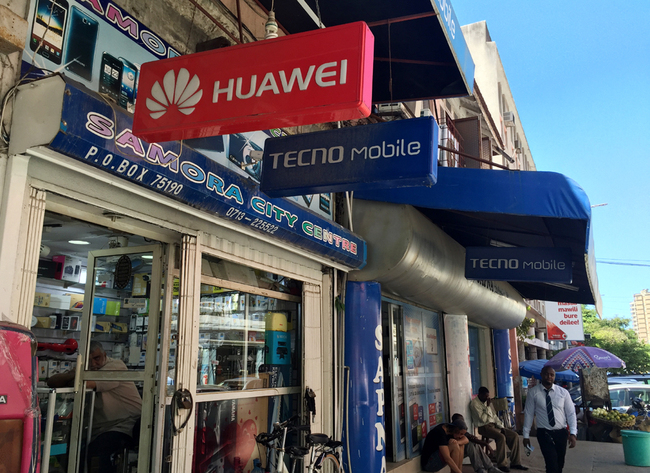 A Tecno store stands side by side with a retailer of Huawei in Dar es Salaam, Tazania in this photo taken on March 10, 2016. [Photo: China Plus]
Transsion also knows how to make use of its strengths in the phone market to explore opportunities in other fields. Given African people's love of music and the fact that the continent's 1.2 billion residents have an average age of 21, the continent is a huge potential music streaming market. Aware of this potential, Transsion launched a music streaming platform called Boomplay in Nigeria in 2015 before expanding it to other African countries. In a bid to improve the platform, in 2017 Transsion formed a joint venture with NetEase, which runs a major music streaming service in China. By comparison, global music streaming leader Spotify didn't enter the African market until last year, and it only operates in South Africa. While Apple Music has been available in parts of Africa since it was launched in 2015, it has reached a limited number of users due to the limited sales of the premium Apple devices on the continent. So far, Boomplay has built a library of more than 5 million songs. While this is a small number compared to Spotify's 40 million and Apple Music's 45 million, Boomplay's music and videos are strongly focused on African artists. Meanwhile, the platform has secured licensing deals with record label giants Universal Music and Warner Music, meaning that its users can also access songs from the West. So it's not surprising that Boomplay is currently Africa's largest music streaming platform with an audience of 42 million active users that grows by around two million new users each month.
Former South African leader Nelson Mandela once said, "If you talk to a man in a language he understands, that goes to his head. If you talk to him in his language, that goes to his heart." In Transsion's case, the company has won over the hearts of African customers by listening and giving them the features that they want. At business schools, these are perhaps the most basic principles taught in class. But in Africa's cell phone sector, Transsion seems to be the only overseas brand that has put these principles into practice. For companies looking to invest in Africa and cash in on the continent's enormous economic potentials, Transsion is a role model to learn from.
Note: Ding Heng is a current affairs reporter with China Plus.
<!-SSE COMMENT_START SSE-> <!-SSE COMMENT_END SSE->