Global scientists invited to share the benefits of space exploration
As China celebrates its fourth Space Day on Wednesday, it invited international partners to join its lunar and deep space explorations and expand humanity's shared knowledge about the universe.
China delivers scientific data from international payloads aboard a lunar probe to the Netherlands, Sweden, and Germany in Beijing on April 18, 2019. [Photo: CGTN]
In an announcement issued by the China National Space Administration, the country invited international partners to cooperate on the Chang'e-6 mission. On offer is the opportunity for payloads of up to 20 kilograms to be carried to the moon in the early 2020s as part of China's expanding lunar exploration program that is seeking to better understand the lunar poles. The offer comes after China and France signed a partnership agreement in March that would see a French scientific payload carried aboard the Chang'e-6 probe.
China also unveiled a plan to explore an asteroid and a comet, and has invited scientists from around the world to participate.
China has become just the third country to develop the capability to soft-land probes on the moon and undertake long-term exploratory missions. It's also the only country with an ongoing lunar probe program. By extending the offer to all countries to participate in its program, China is offering the world's scientists a rare opportunity to gain new knowledge about our Moon.
The United States, the European Union, Japan, India, Israel, and China have all sent probes to the lunar surface in recent years. Unlike the previous space race between the United States and the Soviet Union, this new stage of lunar development is defined not by competition, but by pragmatic cooperation.
It is only by working together to share resources and the knowledge obtained from exploration that we can all benefit from these scientific endeavors. These benefits were illustrated by the discovery of water ice on the moon by NASA's Moon Mineralogy Mapper instrument, which flew aboard India's Chandrayaan-1 spacecraft.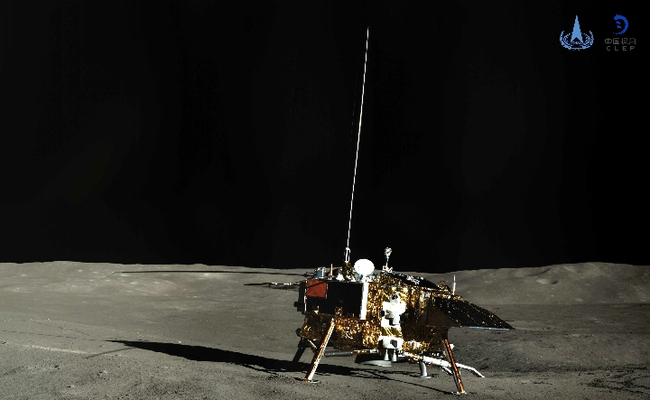 Panoramic photo shows the lander of the Chang'e-4 probe. [Photo: Xinhua/China National Space Administration]
Space exploration touches on issues that affect the lives of everyone on Earth, and no country or organization has the right to monopolize the knowledge it has acquired about our universe. If the exploration of space is viewed through the narrow lens of global political capital and national pride, our efforts will be fragmented and duplication of effort will lead to a great waste of resources. This will hamper humanity's efforts to acquire knowledge about our universe.
<!-SSE COMMENT_START SSE-> <!-SSE COMMENT_END SSE->