China and Armenia, two old civilizations in the world
By Mher Sahakyan
During last two months, Beijing has stood as the main platform for negotiations on economic, political and cultural issues of the world. In April, China organized its second Belt and Road forum focused on results and further developments of its mega initiative, and in May leaders of several states and thousands of professional artists arrived to China for introducing their nation's arts and culture. The main goal of the Conference on Dialogue of Asian Civilizations is to give an added impetus to the development of dialogue between different civilizations. During the opening ceremony of the Conference, President Xi Jinping mentioned that civilizations must not clash with each other and that all civilizations are equal; there is no superior one in the world. This was a clear message to the world that rising China will not stand as a threat to the world order and will contribute for keeping equality and peace.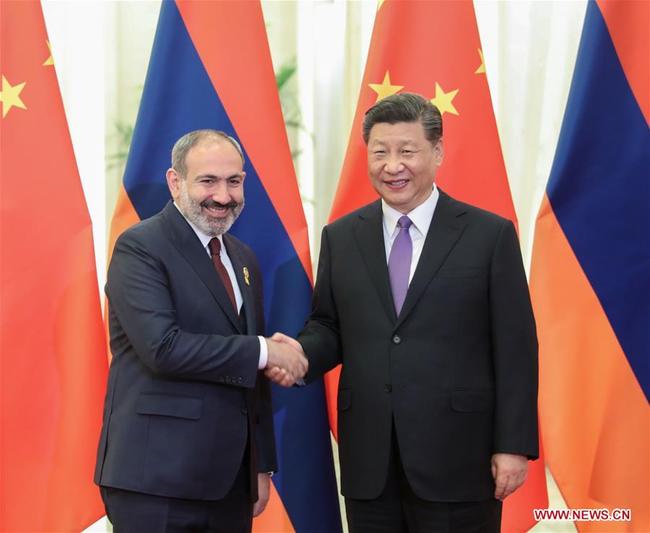 Chinese President Xi Jinping (R) meets with Armenian Prime Minister Nikol Pashinyan, who is in China to attend the Conference on Dialogue of Asian Civilizations (CDAC), at the Great Hall of the People in Beijing, capital of China, May 14, 2019. [Photo: Xinhua/Yao Dawei]
One of the oldest civilizations in the world - the Armenian civilization - was introduced during the conference on a high level. The Armenian Prime Minister arrived in Beijing together with a delegation to introduce ancient Armenian culture and art.
The Armenian delegation has the following two goals:
1.Armenian Prime Minister Nikol Pashinyan met with Chinese President Xi Jinping and Prime Minister Li Keqiang. The leaders agreed to boost cooperation in the following areas: trade, investment, mineral exploitation, metal smelting, renewable energy, and infrastructure. It is also worth mentioning that the Armenian people were pleased with president Xi Jinping's great knowledge about the Armenian civilization. He mentioned that Chinese people know Armenians well. He spoke about famous Armenians as Aram Khachatryan, Artem Mikoyan and Hovhannes Tumanyan. Xi emphasized the importance of cooperation between Chinese and Armenian civilizations.
2.The Armenian delegation presented Armenian art and culture in China, strengthened dialogue with Chinese and other civilizations, and made its own contribution for development of this very important, new platform for dialogue of Asian civilization. Two old civilizations created new fields for strengthening cooperation and developing mutual understanding. Hopefully this will help to bring more Chinese tourists to Armenia and Armenian tourists to China.
It is worth mentioning that in recent years there has been a great interest among Armenian youth towards researching the Chinese civilization and learning Chinese. Hundreds of Armenian specialists studied at Chinese universities such as Nanjing University, Beijing University, and others. In Armenia, many people study Chinese language at the Confucius institute, the Chinese language and cultural center of Yerevan State University, and in several public schools. Recently, the school of "China-Armenia friendship" has opened and now Armenian children can learn Chinese language at this school. In 2016, "China-Eurasia" Council for Political and Strategic Research was founded. The foundation has already organized 3 courses for Armenian specialists to enlarge their knowledge about China's civilization, foreign policy, economics, etc. In 2018, "China-Eurasia" Council for Political and Strategic Research, jointly with the Institute of Oriental Studies of the National Academy of Sciences of Armenia, organized the "Eurasian Research on Modern China-Eurasia" international conference. The conference made an important international contribution on modern China-Eurasia research, as it stood as a platform for scholars to present and discuss contemporary issues related to China's political and economic relations with Eurasian countries. Diplomats from Great Britain, Canada, Armenia, China, Russia, Kazakhstan, Belarus, Finland, Romania, Pakistan and other countries were among the speakers. On November 1-2, 2019, the second edition of this conference will be organized in the capital of Armenia.
There is a huge potential for boosting Sino-Armenian cooperation in economic and political fields. Hopefully, the visit of Armenian Prime Minister Nikol Pashinyan and the arts delegation created personal contacts among Armenian and Chinese decision makers, and will help to strengthen further cooperation among the two nations to the benefit of both civilizations.
Note:Mher Sahakyan, PhD (Nanjing University, 2016), is the director of "China-Eurasia" Council for Political and Strategic Research in Armenia, and author of the book "China's One Belt, One Road and Armenia".
<!-SSE COMMENT_START SSE-> <!-SSE COMMENT_END SSE->